Contained in the OTLR program is 2 x mental health literacy education sessions.
Launching the program is OTLRs 'Mental Health' session.
'Mental Health' covers signs and symptoms of mental ill-health, how to start the conversation and how to support someone going through a mental health challenge.
Your community will also be introduced to OTLRs welfare app, containing vital resources as well as being introduced to OTLRs welfare support, provided by Redefine Life Counselling Support.
This support is available to be accessed by all members of your community when assistance is needed.
The second session is chosen by your club from the following:
Drugs and Alcohol
Gambling
Wellbeing and Lifestyle
Leadership and Culture
Inclusion and Respect
Resilience
Cyberbullying
Each education session runs for 60 minutes.
I am pleased to provide glowing insight about the delivery of the OTLR program at Wests Juniors football club. The implementation of this program has had a tremendously positive impact on the youth community at the club and has resulted in a better environment for them to develop and succeed.
The OTLR program has been a game-changer for the Wests Juniors football club. It is a well-structured program that focuses on improving the mental health of the players, coaches, and the broader community. The program is delivered by lived experience facilitators and highly trained mental health professionals (welfare champions) who have a deep understanding of the challenges that young people face in today's world.
Since the introduction of the OTLR program, there has been a noticeable improvement in the overall mental health of the youth community at Wests Juniors. The program has helped to promote mental wellbeing, increase resilience, and build stronger connections within the community. The young players are now more confident, motivated, and have a better understanding of how to manage their mental health.
The impact of the OTLR program has been far-reaching, and it has created a more positive and supportive environment for the youth community at Wests Juniors. It has helped to foster a sense of belonging, and the players feel more connected to the club and to each other. As a result, the players are performing better on the field, and there is a greater sense of teamwork and camaraderie.
I have no doubt we are a better club all round since we adopted the OTLR program.
Wests Juniors AFL Club
We at the WestVic Academy of Sport are incredibly grateful for the support we've received since collaborating with Outside the Locker Room as our Wellbeing partner for this year. Their focus on mental health and wellbeing has been invaluable to our athletes and wider WestVic community, and we've seen a real positive impact as a result of their involvement.
The resources they've provided us with have been top-notch and they've provided us with tailored support, ensuring that we have the right tools for our athletes and community.
OTLR's approach to education is outstanding. The session they've delivered was engaging, informative and most importantly, positive on a heavy topic. The way they communicate and connect with our athletes is fantastic, and we've received great feedback from everyone involved.
We highly recommend Outside the Locker Room to anyone looking to enhance their mental health and wellbeing support for their community. Their commitment to improving the lives of those they work with is evident, and we feel fortunate to have them on our team.
FedUni WestVic Academy of Sport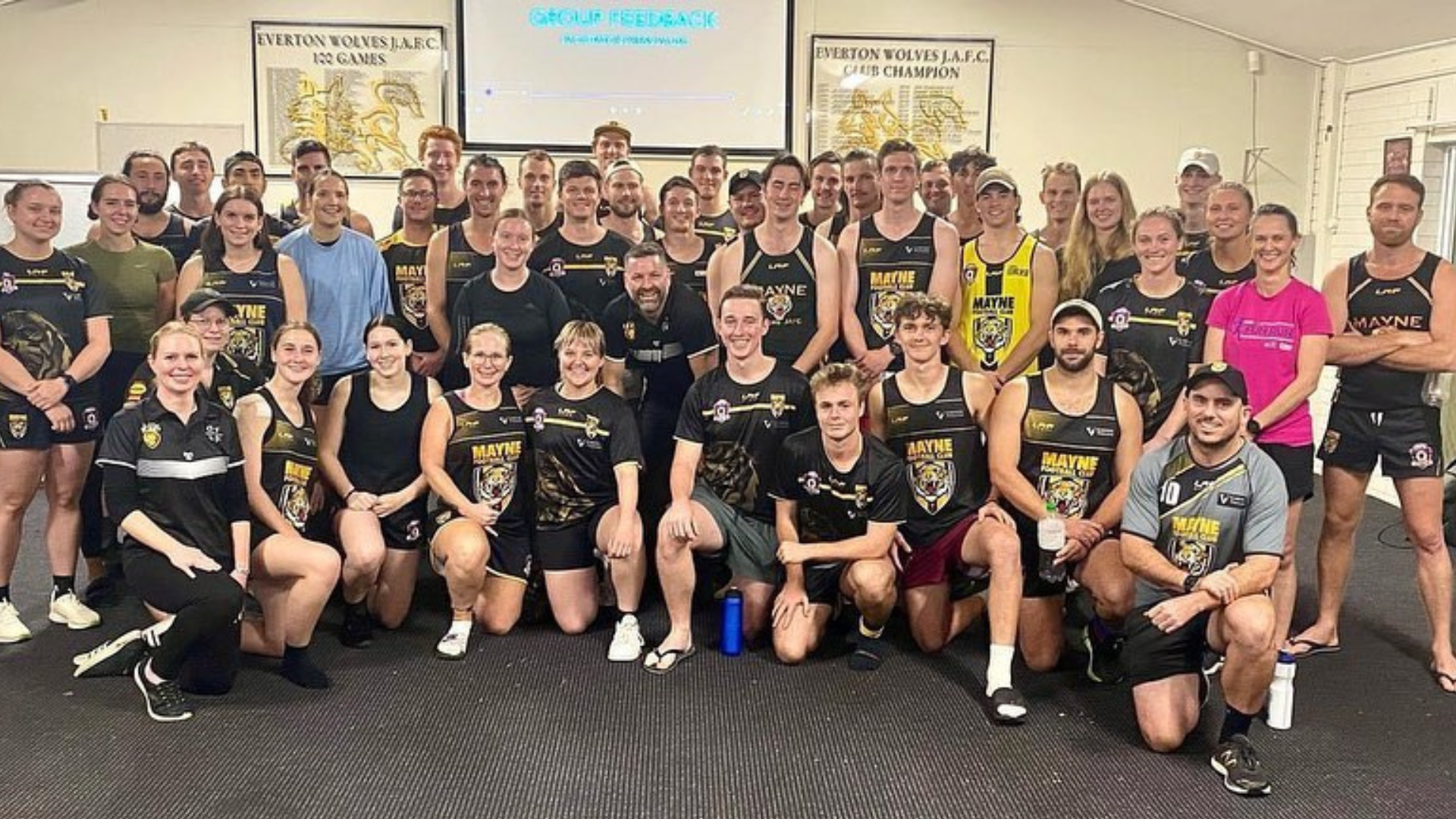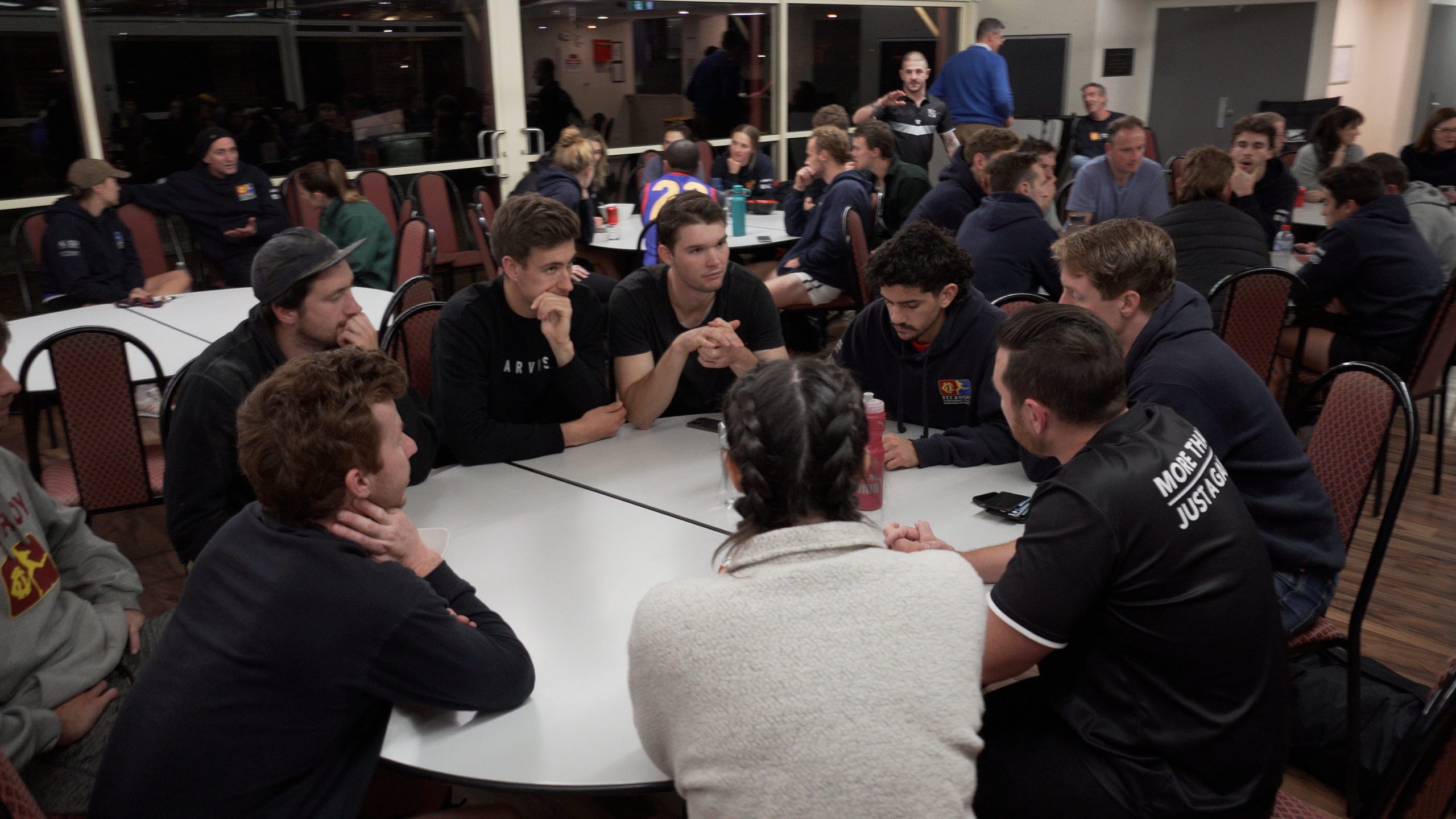 Each OTLR School is provide with 2 x mental health literacy education sessions.
Launching the program is OTLRs 'Youth Mental Health' session.
'Youth Mental Health' covers signs and symptoms of a difficult time, when to seek professional help, coping mechanisms to overcome a difficult time and direct support systems.
Students will be educated on how to best communicate to each other as well as to parents, guardians and teachers in regards to their current feelings and challenges faced.
The second session is chosen by the school from the following:
These sessions are designed to increase conversations, reduce the stigma for seeking help as well as providing a safe environment for vulnerability.
Each education session runs for 60 minutes.
Thanks to the OTLR team for coming out today, the facilitators were great and all of our team could really resonate with your mental health education sessions and the real life examples that were provided on how to support each other and build our resilience.
Living Waters Lutheran School
Thank you for coming in and presenting your mental health sessions to our students, it has been a great partnership having you back to run sessions over the past few years as mental health education is invaluable.
Our students really get a lot out of these sessions and they are still talking about how to support themselves or others with the things they have learnt during your time with us.
Youth Futures Community School
I just want to sincerely thank you and your team from Outside the Locker Room. Both sessions were fantastic and I believe so needed in our community. What I was hearing was super positive and everyone was so involved.
I have sat down and read some of the statements from the groups, and I can't tell you how proud I am of these kids. Some of the statements hit the mark and brought a few tears to my eyes, they really understood the topic and from all accounts they are very strong with their views on how we should value every person that is a member of our community.
Springfield Anglican College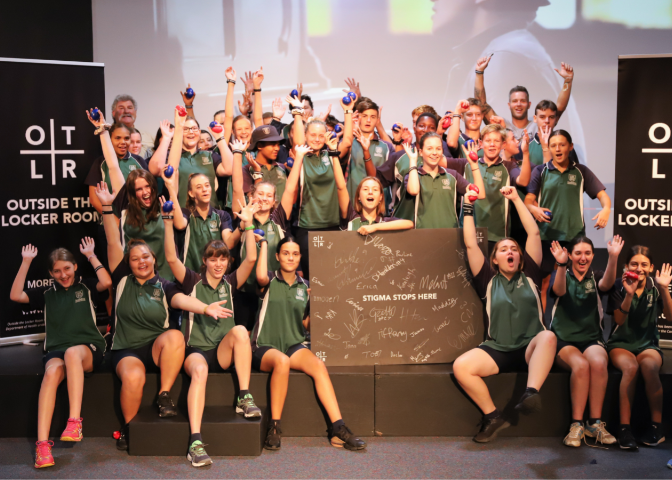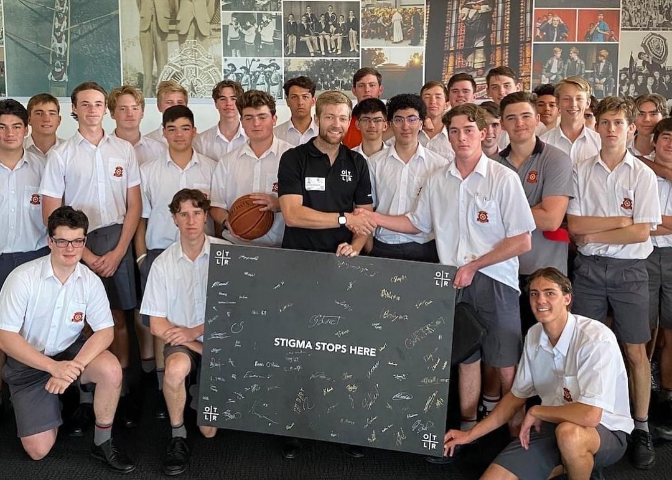 Connecting communities through conversation

Our employee wellbeing program with a customised approach to mental health and wellbeing education as well as welfare support referrals is suitable for any workplace.
Focusing on how to identify, approach and support someone going through a mental health challenge, as well as practical skills for maintaining positive mental wellbeing.
We are now taking expressions of interest for our developed workplace program. Packages include both online and/or face-to-face delivery options.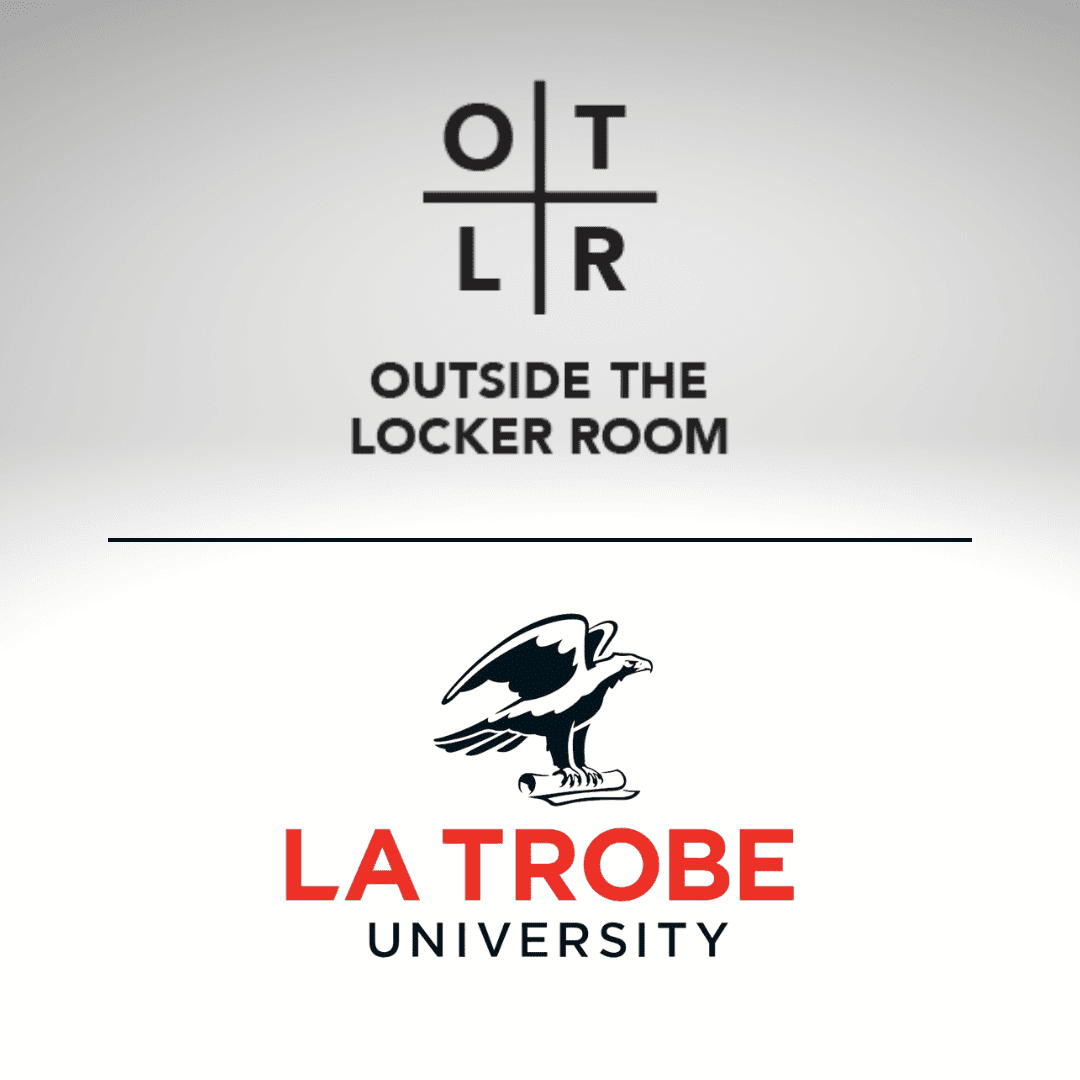 Outside the Locker Room Charity LTD partnered with La Trobe University Victoria to evaluation the OTLR education and welfare support program for mental health literacy and social impact.
OTLRs mission is to deliver welfare and education programs that build both collective and individual mental health and wellbeing within communities. The evaluation with La Trobe University shows that we are living our mission effectively in the community.
It is with great pleasure to provide the completed evaluation with the community to show the positive impact OTLR programs have on sporting club, school and workplace communities across Australia.
Follow the link below to download the full evaluation.
FREQUENTLY ASKED QUESTIONS
What is OTLR?
OTLR is a not for profit charity that provides mental health education sessions and welfare support to sporting clubs and high schools. We have a wide range of topics, Mental Health, Cyberbullying & Social Media, Resilience, Leadership & Culture, Wellbeing & Lifestyle, Drugs & Alcohol, Gambling, Inclusion & Respect, which we touch on how to identify, approach and support yourself or someone you know on these social issues.
What is OTLR aim or objective?
We endeavour to help reduce the stigma surrounding mental health and to provide insight and education on how to identify signs and symptoms associated with mental health issues. We aim to connect communities through conversation, between individuals and between their community members to help improve overall mental health and reduce the number of suicide across the country.
How can I book a session for my community?
You can book your sessions for your sporting club, school or workplace through our Expression of interest forms (EOI). Here you can select which sessions you are interested in with the dates and times that suit. Our state Program Managers will be in contact to confirm these details.
Can I run multiple programs in my community?
Multiple programs can be completed in your community. It is encouraged to split the programs via age groups, splitting either through Juniors and Seniors in sporting communities or Year levels in schools.
Can I download the OTLR App for free?
The OTLR app is free to download for all community members and participants.
Is my data secure?
All data collected through the OTLR app is confidential and stored securely. Any data used for evaluation, program improvement, social improvement or awareness is deidentified.
How many participants are recommended for each session?
OTLR sessions can be up to 100 participants maximum. Smaller group numbers however can lead to more in-depth discussions on the topics during the session. There is no minimum number needed for a session.
What is Redefine Life Counselling?
Redefine Life is our low cost counselling partner who provides welfare support for our OTLR communities. You can access Redefine Life low cost counselling services through our OTLR app.
Who can attend the sessions?
Everyone is welcome to the OTLR sessions and is encouraged to have a mix from your community. This can be players, coaches, committee members, volunteers, managers, employees, teachers, students or parents.
The OTLR program is suitable for ages 13 and above.
What is the youngest age you deliver to?
13 years old is the minimum age we present to. We deliver to high schools (years 7 - 12) as well as junior sporting clubs that meet the age requirements.
When is the best time to run a session?
After or instead of a sporting training session (Sporting Club), during work hours (Workplaces) or during school hours (Schools).
When is the best time to run the second session?
It is encouraged to complete the second session 4-6 weeks after the initial session. This allows time for the information from the first session to be understood, trust to be built with the Facilitator and Welfare Champion as well as providing flexibility to community schedules.
Can I have different age groups in a session?
Yes, our sessions have been designed to be delivered to all age groups. We do have sessions we recommend for younger participants (Youth Mental Health, Cyber Bullying and Resilience). Your OTLR State Manager can assist you in choosing the best topic for your demographic.
How long do the sessions go for?
Our sessions run from 60 minutes - 90 minutes, depending on the conversation in the room. The more active participation we get, the longer the session will run. However, all of our school sessions run for 50 minutes.
I have too many participants, how should I split them up?
If you need to split your participants into smaller groups, it is recommended to split groups by age or playing group (eg. senior players and junior players). Alternatively you can also split sessions into individual teams. For example, 'senior women'' and 'senior men'.
How much does the OTLR program cost?
Depending on which state you are in, please reach out to your State Manager to discuss program costs.
Our community has run the program, now what?
Once the program has been completed, your community is provided with a Bimonthly Newsletter as well as resources that can be displayed around the community. OTLR then plays a behind the scenes role supporting your community, with on-going contact with your community representative, as well as referral connections for postvention support if needed.
OTLR encourages the community to use the knowledge learnt through the program to start conversations, provide support and continue social connection.
All members have access to the OTLR app, welfare support through Redefine Life Counselling and resources through the app and OTLR website.
When can we book the program for the following year?
It is encouraged to book dates for the following year post program completion. Booking the program secures your ideal dates for the following season and secures your communities mental wellbeing. Your State Manager will reach out closer to the date to finalise your session details.
How can I get involved with OTLR?
If you are interested in becoming a Facilitator or a Welfare Champion and being involved in delivering our program please head to the Join Our Team page on otlr.org.au
Who is a Facilitator?
Facilitators are lived experienced individuals who share their stories to humanise and reduce the stigma associated with mental health. Facilitators are extensively trained and are Mental Health First Aid Accredited.
Who is a Welfare Champion?
A Welfare Champion is a mental health professional, such as a registered counsellor or psychologist, youth worker, social worker or mental health nurse who provides extra support and professional insight to OTLR sessions.
Can we choose our Facilitator and Welfare Champion?
Facilitators and Welfare Champions are local individuals who conduct the OTLR program. Using local individuals brings understanding of the area in which your community is involved. Discussions around who the Facilitator and Welfare Champion is for your session can be had, however your State Manager is trained to allocate the OTLR team best suited to your community/group.