Trigger warning: Please note this blog includes references to domestic violence and suicidal thoughts.
Please reach out if you need support:
Domestic violence hotline: 1800 737 732
Lifeline: 13 11 14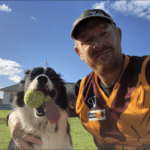 Written by Justin Knorpp, Outside the Locker Room program facilitator.
Justin:
Justin:
When I was 12 years old and in Grade 6 at primary school, my mum and my two younger siblings moved from Fitzroy to Clayton. Mum had obtained emergency housing after one too many domestic violence incidents with my stepdad.
A friend that I met at school and his family got me involved with the football and cricket clubs, and from then on it became my outlet: first from my poverty stricken home-life, and later on from the drugs and crime that my brother and returning stepdad were involved in. I loved being able to get away on the weekend, to just enjoy sports and the family-orientated environment that they provided.

As I became an adult, I spent most of my time down at the sporting clubs. Football in particular became a sport where I could really release some stress by bashing and crashing a few bodies. Being an angry young fella, the white line fever definitely got me.
The cricket club was a more relaxed environment for me. The game was, of course, more relaxed and the atmosphere at the club was the same. I feel this may have been a safer haven for me because larger crowds and groups made me more on edge, triggering my anxiety.
From the age of 18, I started to also spend a lot more time outside the club with the lads I had become friends with there.
I have always thought of the sporting clubs as my family, because the people there knew about my upbringing and the life I was living, in particular the cricket club lads, and it was a chance for me to escape the reality I was living.
I was offered opportunities to play higher levels of cricket, but I chose not to leave the club or the blokes that I had built great relationships with. They treated me like a son or a brother and still to this day I have a lot of close friends that I made through sport.
These experiences gave me the passion to help and support the clubs I am still involved in, especially younger lads within the club.
Since moving to Warracknabeal, I have helped the cricket club reach success for the first time in 20 years. I have built relationships and treated the people like my family, a feeling that I constantly felt within sporting clubs. I love the family environment that comes with a close and supportive sporting community.
This continued into the football season where I coached the juniors, mentoring the younger brigade. There were a lot of the same young lads from cricket that did footy at the same club, which really brought the community together and fostered that family feeling. That's what it's like in country towns: close communities working together. I loved that about the place!
After about 10 years or so, I had a bit of a falling out with the cricket club. I wasn't feeling a part of it and I felt like I had been let down, which hurt me a hell of a lot because I feel I have always done my best for the club and treated everyone in it as part of a family that I could be a part of. That could've been my own anxiety and insecurities, I'm not sure.
Around this time I started to fall into bad habits from the past, isolating myself and drinking more heavily. There came a breaking point where I had to get myself sorted out. I had to take the first step to see a doctor, otherwise there was the real possibility I would be out on my own again and that could very well have tipped me over the edge.
I took that step and went to see the doctor. From there I saw a counsellor and I now see a psychologist regularly who is amazing. I have been putting myself back together ever since and I am involved with the local sporting clubs again.
My kids are involved in sport and I have been reaching out to numerous people, checking in, seeing how they are, and pointing them in a direction where they can get and seek help. I continue to tell my story and work with people within the club to try and get people to talk and to start a conversation. Sporting clubs were basically a lifeline for me and so I try to help the club have a strong culture and family environment where people can come and feel safe and valued.
Joining the OTLR team is a great achievement for me and I'm so grateful to them for having me on their team. Any community can be made to feel like a family, and I think sporting clubs are the strongest communities to be a part of.
Mental health and helping people that suffer from it has become a real passion for me. For the first time, I feel I've found my purpose in life. By speaking out about my depression, anxieties, insecurities and vulnerability, it is helping people other than just me.
#otlr #staysafe #startaconversation #mentalhealth